Case Study
INTRO:
When we first starting working with a local Ford dealership there was no digital marketing strategy in place. In the automobile industry, where adoption of new technology is typically slow, paired with small agriculture town it's easy to understand why. But with no digital marketing strategy the leads were low, reviews were few and far between, and the website was outdated and hard to navigate, not to mention it was not optimized for conversions.
BACKGROUND:
While the dealership was in a growing agricultural town and the biggest in the area, marketshare was slowly starting to be captured by the three big Mega dealerships in the capital city 112 miles to the North (Lithia, Kendall, and Corwin).
Being megastores (having several dealerships in many large markets) the resources were abundant, such as a larger budget and their own marketing team focusing solely on digital marketing and strategy.
Market share wasn't the only opportunity loss to this dealership, but lost opportunity on awareness, building customer loyalty, leads, and ultimately gross.
OBSTACLES TO OVERCOME:
The budget was low. It was essentially starting from the ground up. Competition was strong, they had large marketing teams and a large budget on their side, and there were three different mega stores.
Another local company was hitting it hard on the digital spend, if we had to guess, it would be between $7,000 to 12,000 per month on all digital spend. Since the manufacturer gave the dealership roughly $2,000 / month for advertising expenses (all dependent on the previous month's sales). Plus a contribution from the dealership we had a limited budget.
Strategy:
With such a small budget, a lot of our strategy was content, but the bulk of our strategy was customercentric. But mainly we focused on all areas of the marketing funnel and spent the majority of our budget on the lower funnel.
RESULTS:
Reputation - Score Increase 146%
There's never a "quick fix", and anyone who tries to sell you anything different is a scam. This was a three year progression, starting in 2015 at a reputation score of 298, "below industry average", according to reputation.com. *Note: we did not use the reputation.com software to request reviews. Reputation.com is a reliable independent source of average customer reviews online. Ford uses Reputation.com for dealerships to track their score.
We did a few things to get this score up, employing a few different ways to get reviews up.
· Create a customer centered culture and
· Make it easy for the customer to write reviews across multiple sites
· Responding to all reviews quickly and in a genuine way.
Conversion Rate 47% Increase
What's a conversion rate? The percentage of visitors who take a desired action.
August 2014
(1 year before new marketing strategy)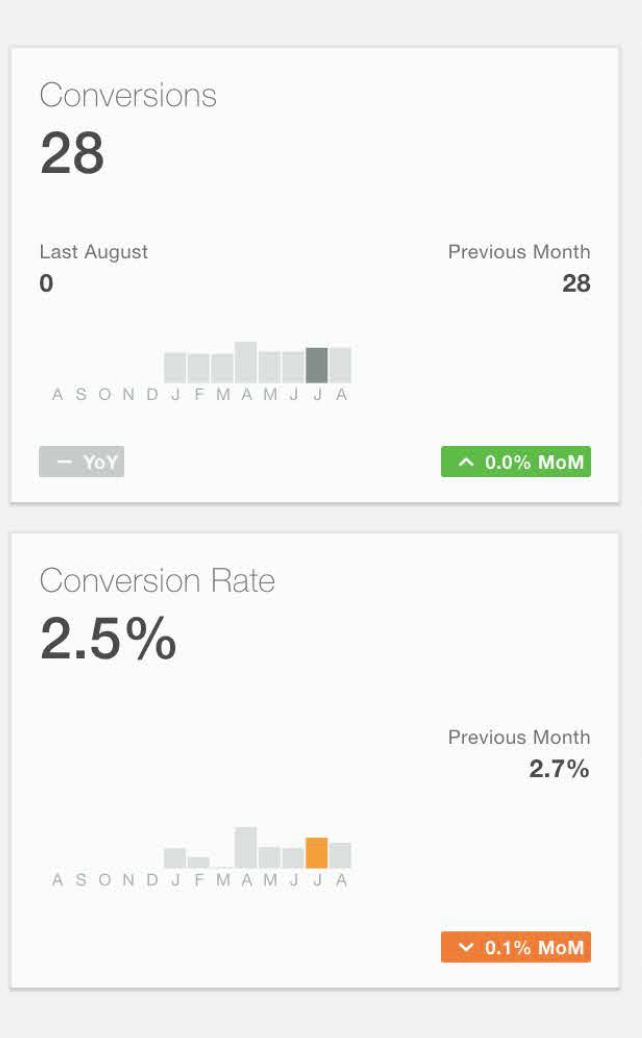 Social Media
Our social media strategy was simple - we made it about the viewer and the community and less about the dealership. Some of our bests performing organic (not paid to promote) posts reflect this.
One post, which encouraged other local business and the community to donate food to the local animal shelter garnered over 18,000 views (which is pretty good for a town fo 40,000 people), .
Engagement Score up 20%
Customer engagement is the emotional connection between a customer and a brand. Highly engaged customers buy more, promote more, and demonstrate more loyalty. Providing a high-quality customer experience is an important component in customer engagement strategy.
The Facebook algorithm makes it so unless you have engaging content, FB won't show your posts to people. Marketers are seeing their engagement score plumet and are forced to either create engaging content for facebook to show their contact organically (not paid) or pay facebook to show their content.
The average engagement score is: 3%! (3% of your likers see the post).
We have less likes and MORE engagement than competitors with in house marketing teams.
This shows us that our posts are reaching people that don't like our page. And they are engaging with our pages and finding our content entertaining. (Photo taken Wednesday March 21, 2018)
The Bottom Line
Let's get to what really matters, the bottom line. Here are our results.
What could you do for my business?
Let's chat! Fill out the form below so we can get started